Recently, the short video concept has become so popular especially after the release of the TikTok app. Having 800 million active users worldwide, TikTok was one of the most popular downloaded app. The app gained so much popularity in some countries like India leading with 611 million active users alone. While people were busy filming TikTok videos, the Indian government announces a list of apps including TikTok will not be working anymore. To read the full issue, checkout this.
After the ban of the "TikTok" app from play store and Apple app store in India, some people were little upset. But on the other side, some developers or companies got an opportunity to launch a similar platform for short video Google is one of them. Many apps then came up with similar ideas for short videos in India. Some popular apps are Mitron, Chingari, ShareChat, Dubsmash, Instagram Reels, etc.
Based on similar short videos kind of idea, the big company Google release YouTube shorts which could the biggest rival of TikTok.
Related: Top 17 Useful Chrome Keyboard Shortcuts You Should Know
What is Youtube Shorts?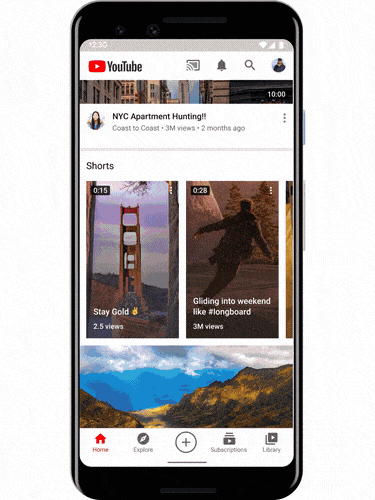 Youtube Shorts allows users to record and create maximum 15-seconds videos having music song using just your Android phone. Youtube shorts has a huge song library of licensed music that allows users to select among tons audio tracks of their choice. Countdown timers make recording videos much easier under a given certain time. Along with that, users get the option to shoot videos vertically making it more engaging & flexible for short videos.
The feature isn't limited to adding music only. Along from simple & easy user interface, speed control gives the flexibility to be more creative. It has a multi-segment shorts camera to string multiple videos clips together. Well, this app is currently in under development phase, sure it'll introduce you to more features in future.
YouTube shorts is currently available for Indian users as in the early beta process, which simply means it is under the development phase right now. And sure, it will be available worldwide at the final build with a few more features.


Key Features:

Here we've listed all the key features of Youtube shorts that are currently available in the beta phase. The features may increase as the app develops.
Short & Catchy videos of maximum 15 seconds or less.
Add audio track with your video.

Speed Control Feature

16:9 aspect ratio support
Multi-segment camera feature
Countdown timer support
Vertical Video.
More engaging and flexible to watch.
Beautiful and clean interface.
How to get YouTube Shorts
Right now you get Youtube shorts integrated with the main Youtube app. You just need to update your current app to the latest version. Now here you can see a new plus icon (+) on the main Youtube user interface. By clicking on it, you can record short videos or upload any short videos as well.
Some users may not have access to the shorts camera or the feature is not available right now, they can still upload under 60 seconds vertical videos vertical videos that are under 60 seconds.


Conclusion

Giving us more opportunity with YouTube shorts, a user can go more creative with more editing tools. Allowing users to create, edit or add songs in short videos. Thanks for reading. Follow us on our social media for more updates.